First of all,

My BFF
is hosting a
week of giveaways
leading up to her 500th post! Today she's giving away a cute homemade coffee cup holder and there's a ton of ways you can enter to win, so go on over and visit
Megan at INfertile Myrtle
.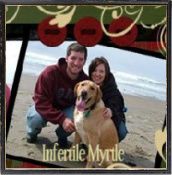 Do you like to win stuff? I came across another giveaway at Pretties and Posies. Love this site and love this painting!



Don't you?

* * *

So yesterday
I kept having this weird feeling come over me. I'd be going about my day, making lunches, reading stories and wiping noses and then there it would be out of nowhere.
I was feeling
thankful!
Last night I
reflected
on this sudden effortless bout of contentment and decided I better make note of this feeling on this here blog...
My
husband is traveling across the State (seriously, clear to the other side) for work, but I am so thankful that he has some work.
Also
speaking of my husband, he had his guys group last night. Him and a group of guys meet every other week at a Pub and share their lives over a beer. I love that he has a group of real Christian men who can be there for him, encourage him and hold him accountable in ways that I can't as a wife.
I also
love
that every other week I get to meet with the wives and do the same thing.
I'm thankful for the town we live in and that sometimes I hear what's going on in the world and feel like we're miles and miles away from it all. Not that this place is perfect, but it is a place where people know each other and
talk to each other
at the grocery store and the post office and the park and the school and the churches.
I'm thankful
for my kids and the opportunity I have to influence them right now, especially my growing girls who are letting me know daily that they're not going to be here forever. Imagine not realizing that until they're gone, which I'm sure is true for me on some level, but still I have an idea and am trying to make this time count.
Not to sound redundant but I'm so thankful for my husband.
He's truly
my best friend and although he's probably completely different than how I imagined him to be at 12, he's a hundred times better and our marriage is also better. Seriously, my girlhood dreams of prince charming pale in comparison to this life of mine.
This is something
kind of new
but I can truly say at this point that I'm thankful for the hardships we've faced over the last couple of years. I couldn't always. Well, maybe I could at points of clarity but for awhile they were few and far between. Suddenly (and I believe it happened at the beginning of this year) I feel like I'm living my life with clarity. Sadly it happened with some of the most difficult things I'd faced at all, like friends leaving and loneliness, bitterness and hurt threatening everything. I guess I could share more about it later, but I'll just say I was in bed, completely depressed and shut off from the world, but God found me there and ministered to my broken heart.
Whoa!
I didn't mean to go there! It's pretty amazing, I always find that when I start writing or speaking what I'm thankful for, more and more floods my mind and soon I'm in this place of peace, contentment and yep, tears!
Last but not least I am thankful for blogger's autosave! Right after I typed the word
tears
the computer shut off in a windy power outage. I was so happy to see this was still here when it came back on:)
So what are
you
thankful for
today?